Thinking now at myself preparing to go for an Erasmus in Denmark (well kind of Erasmus, more of a semester exchange) I see how young and inexperienced I was. As you might expect judging by the first sentence, land of beer, pork and porn was substantially different from what I have imagined. Working my ass off to pay off my trip, visa and other following red tape crap they required, I was also reading all the known books I could get my hands on thinking how smart people I will meet there who will question my knowledge and put all my grey cells to the edge. Well, it kind of did and I can't say I didn't learn anything there, but that's another part of the story. Of course, all respect to Danish people, their weirdness works for them. And the 'weirdness' could be due to my views of a man from Balkan's going to the Nordic country. And before moving onto the rest of the article (so that you don't get disappointed later) take note that it's about everything except actually telling something useful about education system. For that you'll need to go here.
Prior to my move there I was looking at it from the economy point of view so the reason why I was rather scared before going, was the thought that it's a country slightly smaller than mine, but with 8 times bigger GDP. Country, doing that well, must have tight rules. So what I expected was rather a strict school where you were supposed to know your book from A to Z with no dicking around. But then, what I faced there was something towards which I rather had mixed feelings. My schedule consisted of 2-3 lectures, 2-3 days per week. "Okay, perhaps first week it's rather relaxed", I thought. But no, in fact, we just had lectures less often. But ok, this one was rather easy to get used to.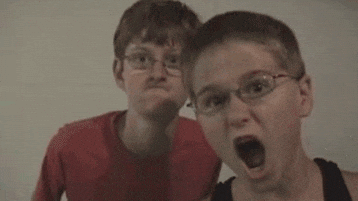 And on top of that I just had to read a bunch of stuff without having to remember it since my exam was supposed to be done with the book open. No one is forcing me do my shit?! What a strange country.
But that's not all. Finishing the semester project after days of blood, sweat and tears (okay, maybe I'm exaggerating a bit) and once you finish, all I got was:
"Okay, you passed."
"Passed? What do you mean by 'passed'? How much is that?"
"It's a pass or fail exam, you don't get a grade."
"How come I don't get a grade? I want a grade. Give me a grade! Danish scale, 1 – 10, any scale! Grade me, aaaaaaaaaaaaarrrrhhh!"
Okay, this last part was rather my inner monologue. But, I sure was frustrated.
As for the openness of the Danish professors, well I found there a surprise as well. Back in Serbia, a teacher is a teacher and you know where your place is when you speak with him and how you refer to him. Hierarchy must exist! However, the first thing they told me in Denmark was to not refer to them with Mr/Mrs, Sir or anything like it because they call themselves by their first name. Okay, I can do that. I think… Maybe… I was bit weird at the beginning, but I dealt with that quite easily.
Once, we had an assignment to finish at home defining the pros and cons of a specific accounting system. I came up with an awesome list, couldn't wait to upload it. To give you an idea I wrote "Theoretically it's good, however it's not applicable in real life situations due to following reasons" followed by a list of arguments. I felt like I discovered America. Proudly, I waited for the class and to claim my victory.
"Who wrote that it cannot be used in real life?"
– "It was me!" – I shouted it proudly.
"Well, fuck you!" – followed by an argument that kept me quiet until the rest of the class. There goes my confidence…
While being there I was a part of the international class so, unfortunately there was not a lot of Danish students. However, the ones that were there I can only say they were fucking great! Pretty much the definition of '0 fucks given'.
Beer represents one of the most important secondary things in Denmark so it deserves an article for itself. And since the article says 'Part I' you know there's gonna be a part II and guess what? It'll be about surviving the happy hours and the free beers.
Wanna be cool? Share this post!
Comments
comments