You are leaving your parents' house. You are now an adult (or at least this is what you think). You are moving to a new city or staying in the same. The question is "Should I share apartment with someone or just live alone? One easy answer is "can you pay a flat by yourself?" if not, share apartment is the answer BUT, even if you can afford it here you have 10 reasons about why should always share apartment.
#1. You are going to save money.
I know, I know. It is obvious but you always have to think about it and more if you are a student. You will save A LOT of money. Money that can be used for make the world a better place buying beer or something with some alcohol graduation. Where you can find a place or roommates? Easy; one place is Meltycasa. Meltycasa is a website that helps you to find a flat or roommates abroad!
#2. Your roommates could be the friends of your life.
One evening you are bored in your room, you go to the living room and you think "today it would be a great day to do something retarded" as you can see in the picture above this lines… "Why we don't play baseball in the kitchen with random stuff? it would be great" and yes, it was great. This kind of things break the ice if you don't know your roommates and it is the beginning of something awesome. Or maybe no and you will hate each other for the rest of your lifes. Good luck with that.
#3. One beer on Tuesday, ends up being the best night of your life.

Your roommates and you are watching something retarded in the computer. Someone says "who wants a beer?" (if your flat does not have beer available at any time of any day of the week do not talk to me), obviously all of you say "YES MAN!". This beer will be the beginning of the best Tuesday night of your life. Some drinking games and you will finish at 8 am in some random club thinking "oh God, I love my life".
#4. You are going to meet a lot of new people.

One of the greatest things about living with more people is that probably you are going to meet a lot of people. Your roommates have their friends, you have yours and suddenly one Thursday night you are 30 people in your living room because all of you are drinking in your flat.  This is more awesome if you live abroad with international people because your living room will look like the United Nations.
#5. You are going to be a chef. Or at least feel like one.
Maybe you are cooking pasta but you did it. When you eat this wonderful pasta with bacon and cheese you feel the world is yours. You can feed yourself, you can survive a zombie apocalypse because you cooked pasta with bacon and cheese. You are the fucking three star Michelin chef. If you live with people from other countries your food background will grow exponentially. You will try a lot of new stuff and you will love all of them.
#6. Going to the supermarket is going to be fun.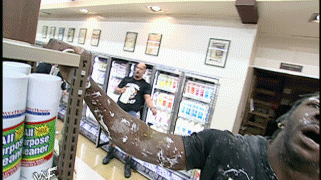 Going to the supermarket abroad can be hard as we talked about it in this article but if you go with your roommate it will be something completely different. Of course all depends how your roommates are but making your groceries can be hilarious. You buy stuff that you know you are never going to use it/eat it, you think about the awesome food you are going to cook together (but in the end you are going to order a pizza), you think about trying a new type of alcohol and see what happens… It is a lovely experience.
#7. Your parties are going to be awesome.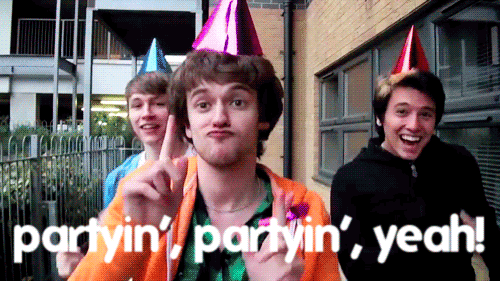 Why are you going to make a normal party when you can make a theme party? Three mind think better than only one so your roommates and you will think about epic parties. Also having roommates means you will have more people in your flat having party so be ready, you are going to party like you never did before.
#8. You are going to share the hangover.
If the party is awesome, the hangover will be directly proportional but it is going to be different, why? Because you will share that horrible feeling with more people. All of you with the same mood, all thinking "oh… fast food right now it will be great" (because we all know that our hungover body wants fast food to cure it). Your flat will not ever be so quiet than in the hungover days.
#9. You are going to learn a lot.
In any topic you could think about it. Different ways to survive the hangover, different culture, different languages (at least the minimum to order a beer and to flirt), movies, books, etc, etc. In my life I lived with Chinese, Hungarian, Polish and German roommates and I always learned something awesome. Maybe not useful but awesome.
#10. You are going to keep in touch afterwards.
All has an end. You have to come back home, or moving to another city, but after all the experiences together you can't just forget them. You are going keep in touch for long time ago afterwards and it is awesome because now it is the period of visiting them and they visiting you. New places to see, new people to meet… It is going to be great!
Do you have more reasons about why sharing apartment is awesome? Feel free to send it to us submitting a post or sending us an email to info@the-survival-bible.com
Wanna be cool? Share this post!
Comments
comments